World Class Data Analysis
What is Alteryx?
For years, the key to success for any business has been data and making sense of your data is one of the greatest challenges that businesses are facing today. It has become the business-enabling capital and the oil that fuels our digital economy.
Alteryx helps you leverage the power of your data and uncover actionable insights that your business needs to remain competitive, efficient and ahead of the curve - all in a robust, automated and repeatable fashion.
Found out more about Alteryx in our article Introduction to Alteryx…
Feature Articles
Take a read our feature articles on the democratisation of data across your organisation - Alteryx for the Business Leader and Alteryx for the Technology Leader!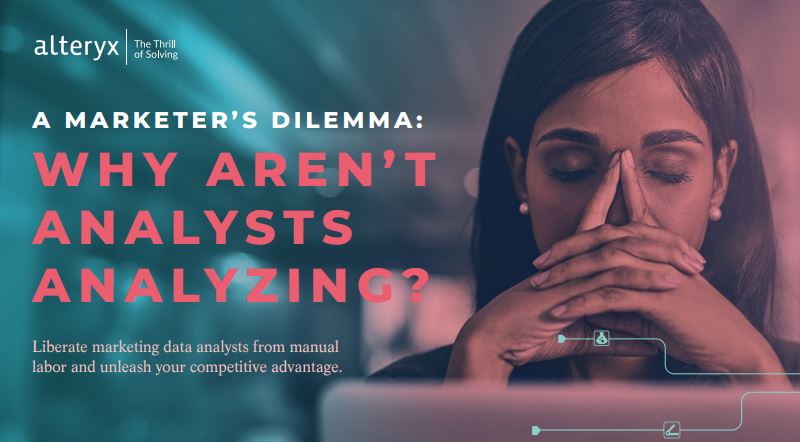 A MARKETER'S DILEMMA
If you're a marketing data analyst, you know all too well that marketing firms are increasingly expected to make decisions quickly. As a result, the vast majority of your days (and nights) are spent reporting on results, not advising on future opportunities.
Read more about how we can help liberate you to spend more time delivering unique insights instead of chasing your tail.
Innovating Tax with Analytics
Tax functions spend more than 50% of their time gathering tax data, and less than 30% of their time on strategic tax analysis, with less than 5% of the budget spent on technology.
Take a read of our feature article on just how you can wield the power of Alteryx to see your businesses Tax data in a new light!
Brand New to Alteryx? Here's how to get started!
All Alteryx journeys start with "Alteryx Designer"…
Alteryx Designer empowers both technology and business users alike to drive the insights that they want to see from their own data in an intuitive, code-free environment, and rid the world of processes that take days/weeks, and turning the same (or in most cases, better) results in seconds/minutes.
Select "Experience Alteryx" below to see how you can get started…